Website for groomers and pet stores
Website voor trimsalons en dierenwinkels
Have you turned your passion for animals into a fulfilling career?
Then you have probably already considered a website or you already have one online.
Whether you have a start-up or a scale-up, we assist you in designing and realizing a website with possibly even an online shop! With many years of experience and willingness to complete projects according to the customer's taste, NYBE guarantees you an effective and personal collaboration.
When people search for a groomer or pet store, you naturally want to get to the top of Google. An effective website with all the information. Which animals are welcome in your grooming salon? What products do you sell for the animals? How much is it?
A (small) photo shoot of your building or shop is also possible. Optional with animals. Original to put on the website!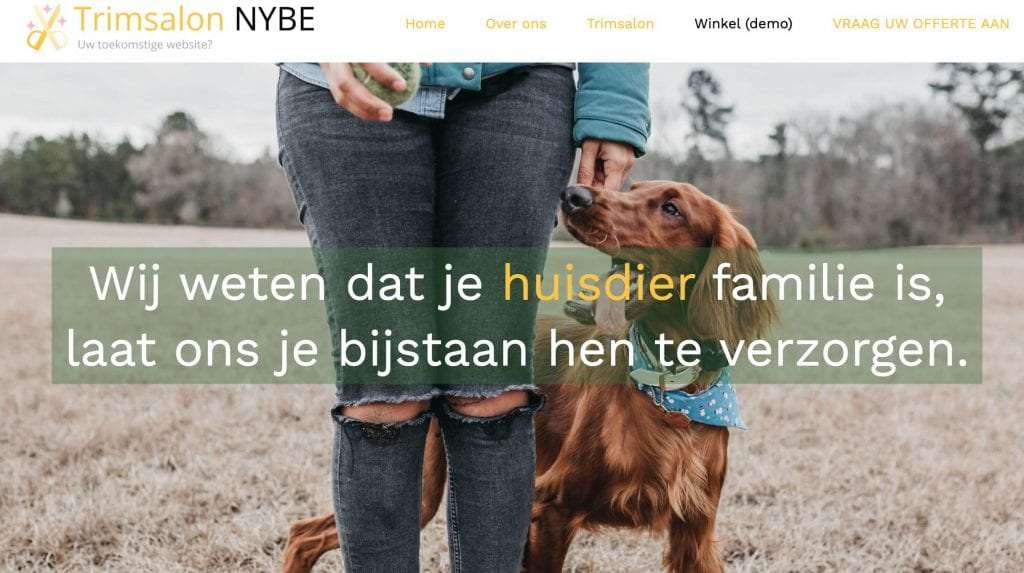 A website completely in line with your corporate identity. We write catchy texts and place professional photos on the website. He is fully responsive. That means it is suitable for all devices. And we help you on your way with the GDPR.
Do you also want to link a webshop to it? We would love to do that. The webshop can then be linked to your accounting package. Totally efficient! The design is suitable for all devices and we help you on your way with the GDPR.
Stop wasting time and money making appointments. Let customers schedule appointments themselves via the online system. That way it will go straight into your calendar. Changing appointments is also easy, because customers can immediately see where there is still a gap.
Online payment is also possible.
Supplier of grooming products
Leverancier grooming products
Still looking for a supplier for good grooming products? We are happy to refer you to our customer, who is specialized in this. Let us know and you will receive the contact details!
Put your company on the map with online & offline communication. This way you will be found faster in the region. Advertising screens, search engine marketing and Facebook ads? All forms of marketing! For all information, visit www.nybe.be/marketing/.