Want to build a fitness website?
Good nutrition is important, but so is sufficient exercise. Fortunately, more and more people are aware of this. Fitness is twice as popular as football. It's no wonder that the gyms are popping out of the ground.
People are more likely to look for a personal trainer or dietitian online. Yoga is also popular. What facilities does your gym have? Whether it's sports, nutritional advice or meditation, a website to promote your services is vital.
To give you an example of the possibilities for your future website, we have made a demo website for you. We have opted for a powerful look that communicates a professional attitude to the visitor. Take a quick look at www.fitness-nybe.be/.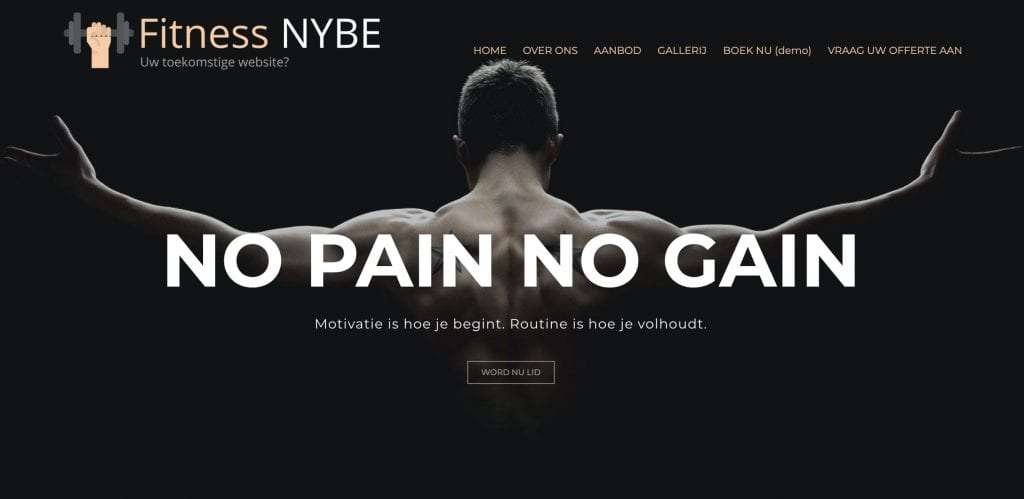 A website completely in line with your corporate identity. With catchy texts and professional images. The website is suitable for all devices. And we help you on your way with the GDPR?.
Remote sports? In these times, many gyms have switched to fitness from home. Create professional videos and post them online! Of course it is also possible to have athletes pay for the videos. Whether the video can only be made available when they are logged in.
Let athletes reserve their spot in advance via the online booking system. This way you know exactly who has been inside the gym and when. Also handy for the corona guidelines.
Prices: from €45 per month
Start-up cost: from €125
A free network for athletes, that's a service. You can increase your reach by letting guests like or check in on your social media. This way, their friends will also see that they have been with you.
Prices: from €47.50 per month
Start-up cost from €175 (excl. assembly)
Put your company on the map with online & offline communication. In this way you increase awareness among the target group. Corporate identity flyers, search engine marketing and Facebook ads? Or a nice welcome promotion? All forms of marketing! Motivate athletes via social media. Then link the accounts to the website as well! For all information, visit www.nybe.be/marketing/.